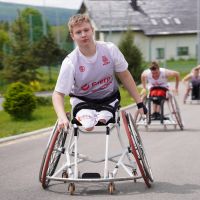 Adrian Jankowski
Beneficiary of Poland Business Run 2021
"Adrian Jankowski is a cheerful and well-liked 16-year-old, living in Konin, who was born without legs up to his knees and without two fingers in his left hand and one in his right hand. He goes to high school and his passion is wheelchair basketball. He is a Polish representative in U22 wheelchair basketball. He plays for the Mustang Konin team which won the Polish Championship this year. He trains regularly, goes to training camps and tournaments all over Poland. He dreams of participating in the World Championships and playing in the best teams. However, for this to come true, Adrian needs a new wheelchair, which will allow him to develop further."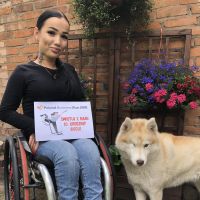 Karolina Kapała
Beneficiary of Poland Business Run 2021
"Karolina Kapała has suffered from congenital joint stiffness since birth. Despite this she has always been an active person. Both professionally and in her private life she fulfils her dreams and goals. She is interested in make-up and wants to develop further in this direction. She also plans to start using the gym to improve her physical shape. She dreams of helping people with disabilities and being an example for them, showing them that despite adversities it is possible to live, function, love and fulfil one's dreams. In order for this to happen, Karolina needs a new wheelchair that will increase her independence, enable her to move around more freely and return to her job that was lost due to the pandemic. She loves animals and helps them whenever she can. Four years ago she adopted a dog without a single eye, who is now her life companion. Her motto is 'We only have one life and you have to use it 120%!'"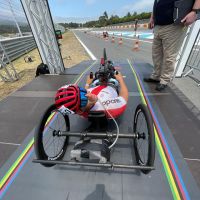 Krystian Giera
Beneficiary of Poland Business Run 2021
"Krystian Giera broke his spine in a traffic accident in 2007 and has been in a wheelchair ever since. After several years of rehabilitation, he started training hand cycling. Hard work and sacrifices resulted in a bronze medal at the 2017 world championships in Pietermaritzburg, South Africa, and silver at the world championships in Maniago, Italy, a year later in the individual time trial. Now he dreams of medals from the next championships and the Paralympic Games in Tokyo. To be able to develop further and focus on training, he needs to be able to function freely and efficiently in everyday life. Such comfort will be provided by a new wheelchair which will be subsidised by the runners of the Poland Business Run."